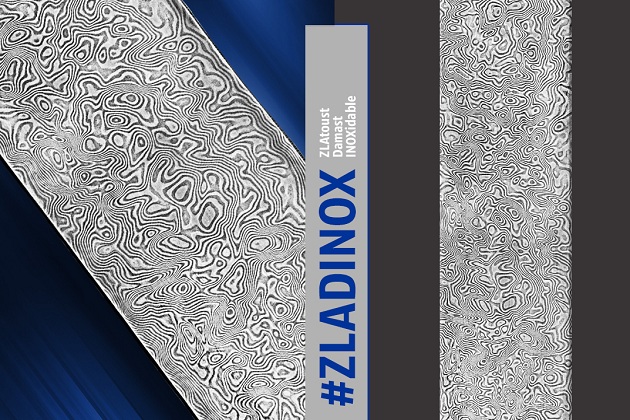 For the convenience of working with Zladinox composite styles, blanks are provided with recommendations for heat treatment and chemical etching (pattern detection).
---
Specifications of high-carbon alloyed compounded steel ZDI-RWL (50Х14МФ-RWL34)
Designation: for manufacturing blades of knives with high cutting and working properties.

Type of delivery: band or square according to the dimensions of the customer.


Hardness of steel after thermal treatment

State on delivery, cycles of heating
HRC (НВ)
Annealing: beating from v< 100 degress/hour to 900-920 C°, cooling with furnace from v<50 degress/hour
to 500 C°, air

(207-255)
Heat treatments: 1050-1080 C°, equalizing 10 mib, oil. Tempering 180-450 C°, 1,5 hour, air

58-62
Technological properties

The temperature of forging, C°: beginning 1200, finish 1000.
Composition and cycle of etching

Sulfuric acid in water from 40-60 min depending on necessary depth of etching.
---
Products
---